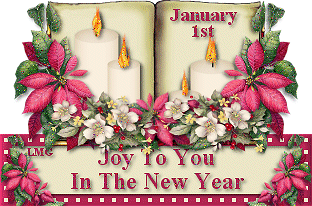 glitter-graphics.com
What's your New Year Resolution? many people will ask this question at the end of each year.
Many of us will have a list of the things we want to accomplish for the new year to come.
Most of this things that made it to the list will have something to do with our physical appearance or with those healthy habits we want to change.
As the time goes by, we loose track of what was it that we were planning to accomplish, or we get too busy, or we get too distracted by the hustle and bustle of our daily lives.
It is very hard to try to accomplish many things when we are not equip with the right tools to have successful results.
As we plan for the future we should consider God's help, with Him everything is possible, even to lose those few pounds that we don't need to carry around; Yes, God is a loving God who wants us to be happy and have the desires of our hearts.
That is why, when I make a plan I try to include Him; Yes, I want His approval and blessings to everything I do and I plan to do in the future.
With out Him, my plans are too hard to accomplished.
The Bible tells us, not to rely in ourselves, we don't have the power to grant all out desires;
The Bible tells us, to trust in God, that all things are possible with God;
The Bible tells us, that we don't have to stop smoking, exercise and doing diets out our own efforts;
The Bible tells us, as longer we have Faith God can give us the will to keep going and to reach our goals.
This year resolution should be an exited one, the one you are going to let God take control of and to guide you, and give you the tools (which are in the Bible)
Have Faith and you will be surprised to see how much your habits and life style can change.
Have a safe and wonderful New Year 2012 ♥
DEAR LORD, CREATOR OF THE UNIVERSE, I HUMBLY COME TO YOU TO ASK FOR YOUR MERCY TOWARD US, TO TAKE OVER OUR LIVES, GUIDE US, GIVE US WISDOM AS WE GO THROUGH THIS LIFE.
AS YOU KNOW LORD, I DON'T HAVE A NEW YEAR RESOLUTION, I JUST HAVE THIS PRAYER, " THAT YOUR SPIRIT MIGHT DWELL IN ME, FOR THE SOLE PURPOSE OF TEACHING OTHERS, I PRAY THAT THE HOLY SPIRIT WILL LET THE WORDS FLOW AS I TALK TO STRANGERS AND THAT MY LIFE WILL BE A GOOD EXAMPLE TO OTHERS"
IN JESUS MIGHTY NAME I PRAY, AMEN!!!!